About Us
NO LIMITS FOR FANTASY.
The Swingers Club Fantasy offers to all swinger lovers an area of more than 300 m2, where not only couples who like swingers, but also women who are surrounded by men and want to experience something unforgettable can meet. Swingers Club Fantasy offers almost every day interesting events that will satisfy everyone, regardless of gender, religion or sexual orientation. Swingers Club Fantasy's most popular events include Mega gang bang – show, kandaulistic party, erotic lingerie party, sexy party or party change – a list of events you can find HERE. You can have fun at the club in seven rooms, at the bar or in the whirlpool, which is often full of naked sexy couples. If you want to try something new, you want to meet new people and like to experiment – you definitely have to visit Swingers Club Fantasy. Besides entertainment, relaxation, new friends, you will have an unforgettable experience for your whole life.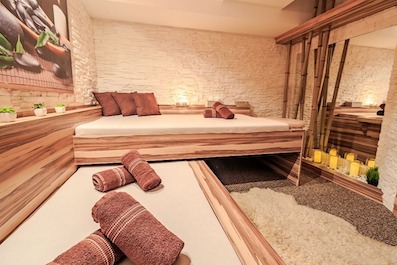 swingers club fantasy
was opened
in December 2007. Everything started with the purchase of the basement, followed by design work, disposition and technological equipment. Four specialized companies took part in the construction and lasted 10 months.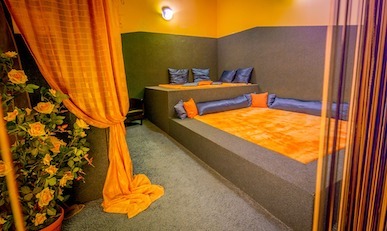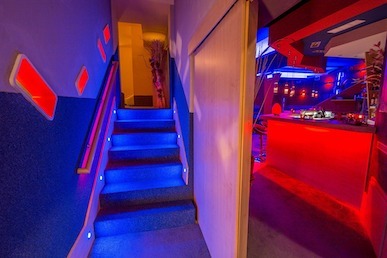 FIRST VISITE
Make a reservation for the party you will choose
Way how you can make a reservation in contacts.
Bring clean shoes with you, ladies can just whipe their hig heels after arrival or we can lend you slippers or you can walk barefoot. 
Towels, soaps, condoms, gels,.. everything you might need is available for you in the club.
It is highly not allowed to visit the club while being sick with any kind of infection deseas! 
If there is a special dresscode it is necessary to wear it for the good of atmosphere of the party. 
You can visit and leave the club anytime during a party.
What should we wear?
The party has two parts. In firts part you can wear your civil clothes or some erotic clothes. On thematic parties there is a Dresscode. In the second part people usually wear towels, bathrobes, erotic clothes or underwear.
How many couples will arrive?
This varies on the day of the week, on what party is happening. It can abe anything between 10 to 50 couples. Dont be afraid to ask us on the phone, we will gladly answer you.
What is the age group of couples?
We are visit by all age groups, the theme of the party decides the age average. We have quite low overall age average and we are mostly visited by couples in age of 25-45 years old.
Can single man visit you?
Single guys can come only on Tuesdays Gang bang party, Thursdays Kandaulistic party or Gentleman party which we make once a month on Friday or Saturday.
What about parking and accomodation?
Parking is possible on our own parking. Accomodotion is available in rooms above the club. It is necessary to make reservation (double bed room for a night costs 1000 czk/ 42 euros).
Can we pay by card?
Yes, in our Club you either pay by cash, by card or in euros.
Swingers Club is determined for couples and single ladies, it is not possible for man to arrive with a woman as a passive company or an escort. Single guys can come only on Tuesday and Thursday.
Every couple (especially the beginners) should talk about their boundries which they shouldnt cross and make up a sign for situations when your partner gets further then it was agreed. You are not here to hurt yourselves.
Every couple is in the Club by their own and can refuse anyone. It isnt an insult to refuse someone. Everything is voluntary and its about appropriate communication.
It is forbidden to take photos and make videos and it is necessary to keep dicretion about other guests. What happens in Swingers Club, stays in Swingers Club.
Member of Swingers Club can be a couple, woman or man at least 18 years old. We care very much about clean and hygienic environment and we expect the same from our guests. It is highly important to preserve principles of hygiene and health especially about STDs but even common sickness such as cold or flu is inappropriate for visit of the Swingers Club. During your plays we advice to use condoms which are avialable in every room as well as lubricants, paper towels and trash cans.
Smoking and consumation of food and drinks is allowed only in the main room with bar. As a private club we dont have take everyone as a member. We reserve the right to not let in or expel people under drugs, too drunk people and anyone who is harming other guests.
So, was it a Mega gang bang party, a candaulist party, an erotic lingerie party, a sexy party or a change party that you visited at the Swingers Club Fantasy? It was great, wasn´t it:)? Have you relaxed, did you meet new friends, enjoyed the fun and unforgettable experiences that included a sexy girl and several erotic massages? Sexy girls very often visit Swingers Club Fantasy a lot – no matter what action takes place at the Swingers Club Fantasy. If you did not visit a party in erotic lingerie, we recommend it. Who would not like a lot of sexy girls in sexy erotic lingerie that are in the same place, at the same time and for the same reasons as you are :)? If you were not in the mood for gambling with sexy girls, we believe you enjoyed the whirlpool (assuming you did not decide to enjoy the whirlpool with sexy girls) or did something good to drink at the bar. Let us know how and with whom you enjoyed the Swingers Club Fantasy:).
Little bit about 
sWINGERS
If someone says "swingers" most of people automatically think of pile of naked people having sex. When you dont have personal experience, you are putting together pieces of informations but you are not really sure whats going on at the parties and how the evening goes. On one side there are rumours and on the other side there is reality. You can find lots of videos about swingers but they are usually not the real reflection of what is happening at these parties. But generally swingers presented on videos are not the true reflection of what goes on.
So now the reality…
On swingers party you can be just with your partner and you dont even have to get in contact with other people. Lots of couples, when visiting for the first time, are in the position of "see and be seen" and are only together. Nobody is going to judge you in any way, its completely normal and its only up to you who you will like to communicate with. Most of couples decides according to their symphaties and often creates groups of four people who spends the night together. Everyone has their sexual fantasies and you can meet yours at these parties. Every couple has a different fantasy and you can meet a couples with similar fantasies as you have and make them real. Swingers is about meeting of similarly thinking people, unusual and unforgettable experiences and toleration.
Couples are coming to the party with expactations which can but dont have to happen. They are definitely not coming to hurt their feelings. There are some borders you and your partner shouldnt cross. It is good to talk about this before coming to the party. There are several kinds and themes of parties. Every theme has its fans, some themes are neutral, some specific and when you choose you will most probably meet similarly thinking couples.
Often the question is
What about clothing?
On most of the parties the first part (cca till 23pm) is civil and you dont have to undress yourself but you can. Some people likes to wear erotic clothes or underwear which you cant wear anywhere else besides your own bedroom. Important is that you feel pleasantly. In the second party of the evening people usually walk and sit around in towels, underwear or bathrobes (which are avaible in the club).
If there is a dresscode for the party you can either come already dressed in it or switch to it in our locker room right after your arrival to the club.
Most couples are excited after their first party and it often happens that they say: If we would know how it really goes, we would attend these parties much sooner. Lots of couples are fighting with prejudice and just by reading those lines you are proving that you are interested in swingers.
So now just to arrive – You wont regret it.
everything must work
Many technologies that are important to the club are hidden in the background and are among the best in their fields. They will enjoy the pleasant environment and the undisturbed atmosphere of the club. Everything must work and among the most important equipment are air conditioning, pool technology, sound system, video projection, lighting …
The Club has an area of over 300m2, with 7 rooms and a capacity of 50 pairs.
The most popular places include a whirlpool at the 36 ° warm water bar.
Of course there are showers and dressing rooms for putting away clothes.
We have rooms for you with special rules. One of them is a room for couples who want to be alone, mainly used by new couples. The other is a girl's room where only women can. In addition to these rooms there are four more in the club and a main room with a richly stocked bar.