CHILLI SALON
Erotic massage Prague. The best place to relax . . . witha hint of spicy!
How to order a Salon Chilli massage?
We do everything we can to ensure maximum efficiency, discretion, and the excellent service of our masseuses. An in-house reception team is an integral part of this. If you want to experience a sensual full body massage, follow the steps below or call us at +420 722 068 519 and we will take care of all the necessary arrangements for you.
1. Choose your masseuse / masseur.
We have a great team that we are constantly discovering. Our ladies are trained to make sure you get the best erotic massage in Prague. Check out www.chillisalon.cz/chilli-maserky for individual profiles and find out more about our ladies and the massages they offer. Take a look at the entire masseuse gallery and choose the right one for you.
2. Choose the type of massage
Every masseuse offers both types of erotic massages. If you would like to get more info about the erotic massages we offer, check out www.chillisalon.cz/masaze Click each one for a full description to make it easier for you to choose. If you are unsure, just call +420 722 068 519 and our receptionist will be glad to recommend according to your requirements and needs.
about chilli salon
Salon Chilli provides everything you can imagine a massage could be. As with all intimate massages, it is important to make sure you are safe, clean and experienced, so that you can experience the best massage ever. Our extensive adult massage service will surely enhance your mood. You will leave with a unique experience in which you have relaxed not only your body but also your mind. Visitors are offered a beautiful, cosy environment and a friendly atmosphere with great opportunities for complete relaxation. From the whole body erotic massage, through tantric massage, body to body massage, 30 min. intensive penis massage, all the way to a reflex massage. To complement, you must not miss out on something more extravagant, such as a footjob, BDSM massage, prostate massage or flirt dance. In short, we have something for everyone. We also specialise in couple massages. With this extraordinary experience they both choose if they want to be handled by a masseuse or masseur. And we must not forget the women themselves, to which our irresistible and empathic masseurs are ready to go. All you have to do is visit www.chillisalon.cz/masaze
When you choose any option at Salon Chilli, we promise an unmatched erotic massage experience in Prague that you will never forget.
open hours:
Monday 10:00 – 22:00
Tuesday 10:00 – 22:00
Wednesday 10:00 – 22:00
Thursday 10:00 – 22:00
Friday 10:00 – 22:00
Saturday 12:00 – 22:00
Sunday 12:00 – 22:00
All photos of our masseuses are real

, up-to-date and without any editing.
Rest assured that the lady in the photo will look even better when you meet them.

We never use fake photos

. For us, it would be a step toward mistrust and deception.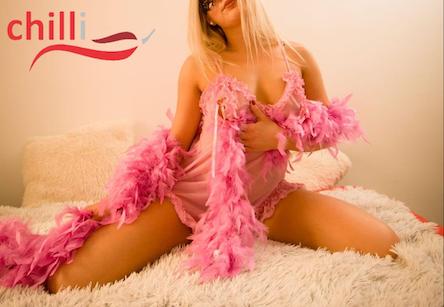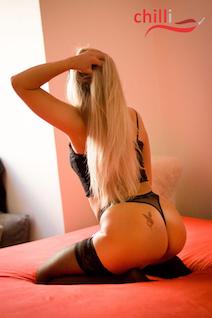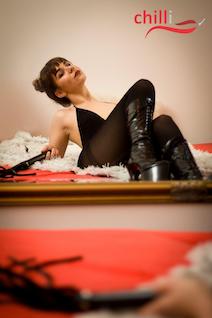 For the best experience you need to use the right place. Salon Chilli provides the highest quality massages, masseuses work in a cosy and clean environment, all the photos are real and everything is at the discretion of the client. Be aware that you are going for a life changing experience, the result of which will open your mind. Your body will then perceive this kind of eroticism as something wonderful and positive. The only thing left to do is to call our ladies at the reception desk at +420 722 068 519 or via online chat directly on our website www.chillisalon.cz and they will take all possible stress associated with the order. You just relax while your masseuse will take you through the secrets of the incredible experience at Salon Chilli.
WHOLE BODY EROTIC MASSAGE
Are you looking for masseuses who are completely naked during a massage? Salon Chilli offers beautiful masseuses who are trained and enthusiastic to pass on their sensual arts in the form of the full-body erotic massage – https://www.chillisalon.cz/cenik/
What can be more sensual or liberating than the sense of infinite imagination that starts with looking at the disrobed, shiny body of the masseuse in the reflection of the mirrors with an atmosphere of flaming candles and relaxing music. The masseuse will massage you perfectly with her whole body. All the stress and tension will be released and you will feel revitalised. Treat yourself to a state of pure bliss and experience sensational feelings in complete privacy.
BODY TO BODY MASSAGE
Experience the most sensual massage that Salon Chilli can offer. Massaging Body to Body heats every inch of your naked body such that you will not be able to return to a normal massage. Just the idea that the beautiful masseuse you have chosen pampers you with all of her oiled, nude body, by candle light and relaxing music… Your masseuse will use hot massage oil laying naked on your body and exciting you with every touch. Connecting with your entire body causes an incredibly sensual atmosphere and slowly begins to release the flow of energy.
something more extravagant:
FOOTJOB, FLIRT DANCE, bdsm & prostate massage
Experience Massage in Salon Chilli with ease on your conscience!
For those who are looking for and favour a higher level of service. Don't be among those who react too quick to an ad and collide with reality after visiting gloomy, dirty flats, and that entice you with erotic massages! We guarantee the highest of standards, starting with our property. The lower floor, where the lobby bar and fireplace are located can be used for stage dos, birthdays, business meetings and is fully available for a pleasant drink before or after a massage. On the upper floor we have 4 luxurious, modern massage rooms, each with its own shower. Last but not least, we are situated in a discrete location in Prague 8 – Karlín, which is easily accessible. www.chillisalon.com/contact.
What is better than when you get a fluffy towel and a drink when you arrive to the room?
At Salon Chilli, we place great emphasis on customer care and the quality of our masseuses.